Explore Jasper Like an Expert

New 
Jasper Map
Watch for our new Jasper Map in and around Jasper in the next couple of weeks. No need to wait to explore Jasper, though. You can already find the
digital version of the Jasper map
online.
On one side of the brochure you'll find a map with highlights of Jasper National Park to help you make the most of your next trip there. The other side has a detailed map of the community of Jasper with everything from picnic areas to train and bus stations.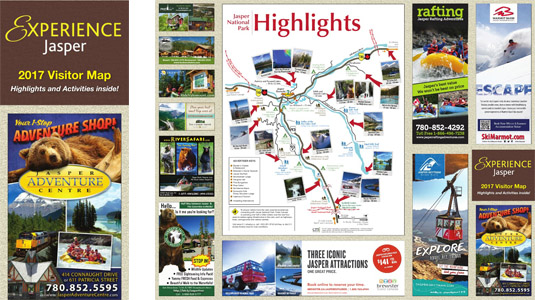 New 
Team Member
Melissa Williamson now lives in Hinton, AB, but she was born & raised in the remote outback of Australia, so she's still getting used to Canadian winters!
After arriving in Canada in 2015, Melissa started working with Travel Alberta as a Tourism Consultant for the Hinton Visitor Information Centre. She loves to chat with travellers about all there is to see and do in the area.
Melissa is a keen photographer and uses her own series of local snapshots in creating unique local gifts. Indeed, CMI featured her "Wapiti" photographs in the Banff section of the 2016 edition of Experience the Mountain Parks.
We are delighted that Melissa has agreed to represent CMI in and around Jasper & area. Her primary responsibilities will be to help with the distribution of The Jasper Map and promote our Self-Guided Coal Mine Tour Map, but she is also very excited about CMI's brand new magazine, Experience the Dinosaur Trails.
Melissa invites all of her friends to contact her at Melissa@cmiPublishing.ca for all of your marketing needs.
January 4, 2017